Advertising Rates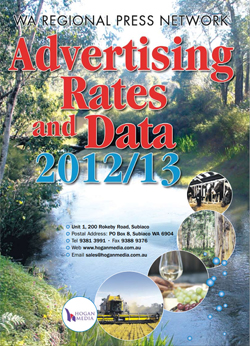 The Donnybrook Bridgetown Mail services the area of 15,917 square Kilometres.

The Donnybrook-Bridgetown Mail has been going for about 25 years. We cover local news and issues for Donnybrook, Bridgetown, Boyup Brook, Nannup, Balingup, Boyanup and everywhere in between.

Major industries in the area include fruit and vegetable growing, with more than a third of Western Australia's vegetable and fruit crop produced in the region. Other major industries include wheat, sheep, beef, and dairy farming, timber and forestry, tourism and wine making.

The Donnybrook area is responsible for extensive fruit exports, especially the Pink Lady Apple, producing nearly 100 percent of Australia's output.

Major attractions during the year include the Bridgetown blues Festival which draws enormous crouds from across WA, the Donnybrook Apple Festival, the Balingup Small Farm Field Day and the Boyup Brook Country Music Festival.

The paper has a Garden feature which is printed monthly plus a Good Eating and a Gifts and Galleries feature which are printed on a mothly basis also.

Special attention is given to the bi annual Donnybrook Apple Festival with a 4 page wrap around.